Make-a-synth
Workshop led by Seth Jayawardane
The first hour or so was spent going over how exactly the synth works on a basic level as well as building the synth which mostly involves correctly wiring buttons on a breadboard. The next hour was spent helping some people debug why exactly their synth did not work since there are some common mistakes that are typically made as well as people spent this time using their functioning synths to play different beats. In the end, everyone interested tried to make a short 15-second beat and offered a prize in the form of free filament to whoever comes up with the best beat.
Check out some highlights of the workshop!
Puzzling
Workshop led by Seth Jayawardane
In this workshop, we showed students how to make their jigsaw puzzle using freely available online generators and cut the pieces out using our laser cutters. We had a great turnout and had a blast seeing all the cool puzzles everyone came up with. Take a look at some of the puzzles made by makerspace users!
LED Sign
Project Marcus Montisano
This project uses a custom Stream Deck plugin to communicate directly with the Adafruit IO REST API. It works by posting a specific value to a feed and each button will post a different value to the feed allowing you to easily change messages.
The message panel itself is driven by the Metro M4 Express Airlift Lite. It will connect to local WiFi and read the value of the message straight from your feed. It even allows some basic formatting such as color and text size. The feed values are limited to 50 characters, so the more formatting you apply, the less text you can show. Fortunately, the message panel can hold a maximum of 40 characters.
Parts:
Adafruit Metro M4 Airlift Lite dev board with SAMD51 an ESP32 Wifi Co-processor.
Adafruit RGB Matrix Shield for Arduino connected to a LED Matrix that reads "Adafruit Industries LED MATIX! 32×64 RGB"
64×32 RGB LED Matrix – 4mm pitch
5V 4A switching power supply brick with figure 8 power port.
pile of 50 Brass Heat-Set Inserts for Plastic – M3 x 3mm.
4 x M3x6mm Screw
For more details, check out this website for a detailed guide!
Wireless mechanical keyboard
Project by Xudong Zheng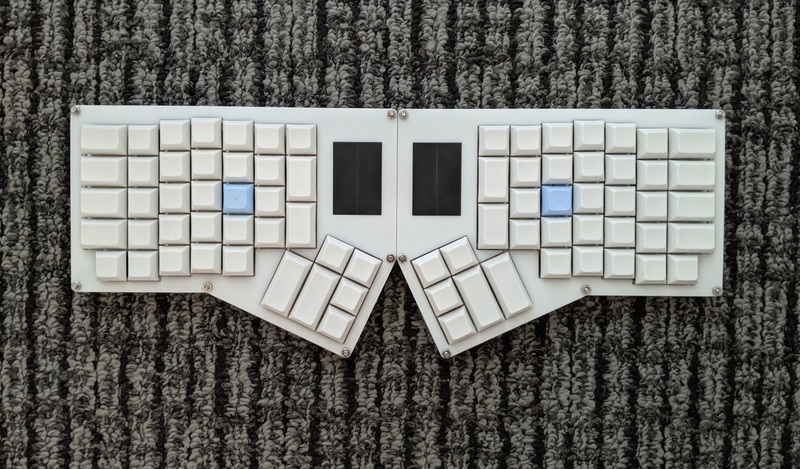 Xudong was able to use the laser cutter to create his ErgoBlue, a Split Wireless ErgoDox Mechanical Keyboard. For more information on this project check out his website: https://www.xudongz.com/blog/2019/ergoblue/
Benchtop Power Supply Enclosure
Project by Gavin Granath – ggranat1@jhu.edu
Gavin was able to purchase an inexpensive DC power supply from ebay and then design and print his print his enclosure in the Makerspace. With accurate voltage and amperage control, benchtop power supplies make it easy to test and prototype electrical components.
Around $40 total cost
Adjustable 5A Step-Down Buck LCD Digital Power Supply Module 6V-32V to 0-32V USA https://ebay.us/n1pBDIPower Supply Case STL FilesDownload
AC to DC Power Adapter with an output of DC 12V and 5A max
Panel Mount Banana Plug Female Socket
Banana Plug to Alligator Test Lead
Enclosure Machine Screws M2.5 x 10